Vacuum sealer with maintenance free-pump for sale - Calitzdorp
Monday, 26 March 2018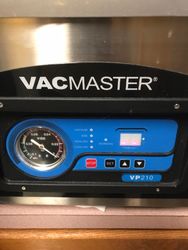 Item details
City:
Calitzdorp, Western Cape
Contacts

Garry

0782488397
Item description
Dimensions
Maintenance-free pump
Seal bar length: 10.25?
Sealing type: double
10 Inch removable seal bar with double seal wire
Cycle Time: 20-60 Seconds
Stainless steel body
Control panel – adjustable vacuum and seal time, digital time display and pressure indicator
Maximum Chamber Pouch Size: 10" x 13"
Chamber Size (WxDxH): 11.25" x 15.25" x 5"
Overall Dimensions (WxDxH): 20" x 14" x 15"
Bag size: 10" x 15"
Weight: 39kg

Can seal wet and dry very well. The sealing bar is inside of the chamber, once a seal is created the seal bar is clamped down against a silicone stopper. The seal bar Can be easily removed for cleanup or maintenance.
Dry maintenance-free machine pump.

Keeps food fresh up to five times longer.
A double seal on each bag ensures a complete and lasting seal.
Customizable vacuum and seal methods offer a variety of packaging options.
The sealer vacuum package liquids and liquid-rich foods like fresh meats, soups, marinades, and stews.